Marmalade SDK
Client outcome desired
Marmalade came to Nexttick with the challenge of taking their current games / app SDK application (the Marmalade Hub) and making it more attractive, easier to use, and advise on a vision for the product that can incorporate new partnerships and functionality in future.
The Marmalade Hub boasts amazing functionality for games and app developers to cross compile their C++, Lua and ObjC applications. 14 years old Marmalade had developed their tools in-house to support games design activities before releasing the suite as a standalone SDK. Used today by large games production houses and small indies alike, Marmalade SDK helps developers easily cross compile their applications for fast, small footprint mobile and desktop apps.
Nextick.io Solution
After meeting with Marmalade, Nexttick identified the need to provide a UX and UI designer to support the internal development team for the project and I was brought in.
The outcome of the UX and UI work would provide research on the current user base, guidance on desired functionality, product wireframes and hi-res prototypes. Each stage would incorporate feedback from stakeholders internal and external to enable the client to give guidance to the designs, keeping the team up-to-date and included, and important feedback from users of all types.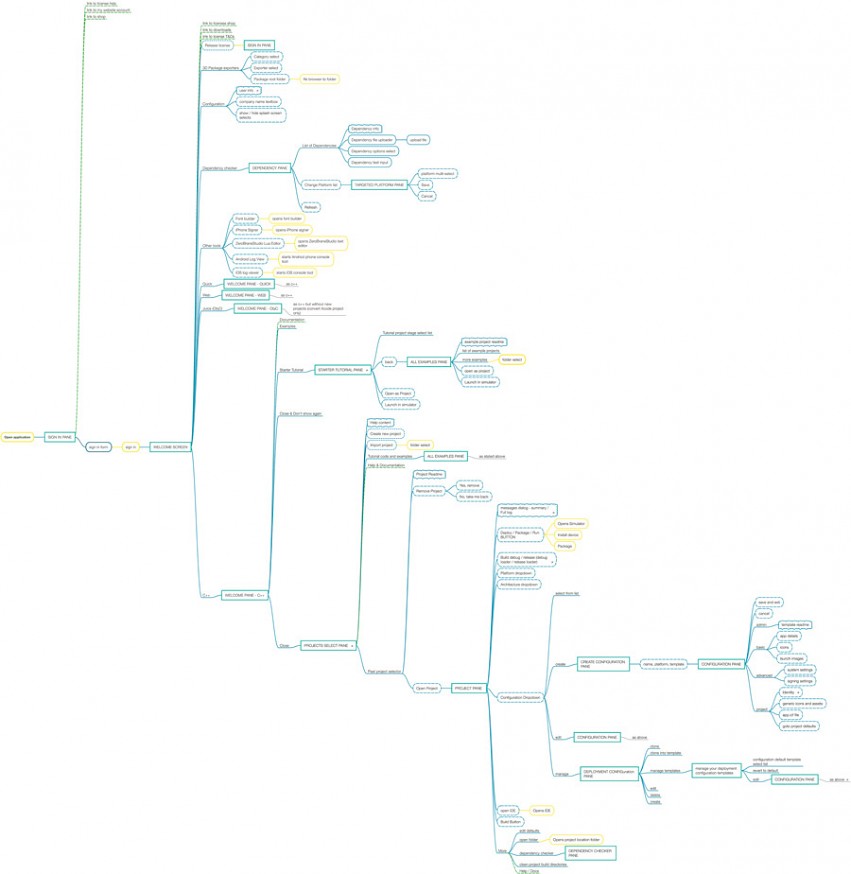 Old user flow diagam of Hub application
Work done
Product Vitals - interrogated high level view of the product and business direction

Competitor analysis - brief outline of competitors to inform current direction, design and functionality

User feedback - feedback on current product through surveys, forum feedback, interviews and field gorilla testing

Personas - creating basic personas to use as basis for assumptions across the product and to create user journeys

Information Architecture - the creation of an architecture diagram to compare with new proposals of the product. Card sorting exercises to provide lower level grouping and positioning of content within the product

Interactive prototypes - the creation and iteration of interactive designs - created from workshops with internal stakeholders and gorilla tested

UI Design - working together with internal designer and stakeholders for design aesthetic

General Recommendations - across the product and business for the future of the business
Some intial user feedback:
"This is much better, literally the only thing that took more than 2 seconds was [opening] IDE, because I have no idea what that means, but I found it and did it. It looks very nice",

Lucy Pullinger games designer and Twitch streamer
Marmalade SDK 8 will be released in fall 2015 and looking forward to seeing the UX and UI design work come into fruition. I'll be updating this project with user quotes and client data when it does.
UPDATE [5th Nov 2015]
Marmalade Platform (the new name for M8) is now released and available here. I'm extrememely pleased with what the Marmalade developers have been able to to produce and look forward to working with them in future and adding feedback on the new application UI here.